Type O3

Based on the O3 pattern with 14mm dia raised holes and 9mm depressed holes. The O3 stair tread provides excellent non slip properties and is best suited to more industrial applications owing to the increased hole sizes.

Manufactured and stock in standard sizes as below or can be specially made to order to suit requirements. Please state loading criteria or application when enquiring/ordering to ensure the item is suitable.

Materials

Galvanised Steel & Aluminium

Applications

Industrial/Maintenance stairs, Shipyards/Docks.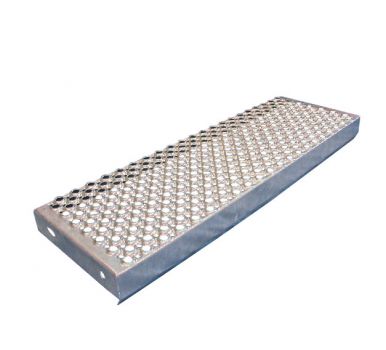 O3 Perforated Stair Treads


2mm thick Galvanised Steel to BS EN 1461:2009
14mm dia raised hole, 9mm dia depressed hole
Loading Designed in Accordance with BS EN 4592: Part 0: 2006
Length
Depth
Width
Width
Width
Width
mm
mm
165
215
265
315
400
45
●
●
●
●
500
45
●
●
●
●
600
45
●
●
●
●
700*
45
●
●
●
●
800*
45
●
●
●
●
900*
45
●
●
●
●
1000*
45
●
●
●
●
1100*
60
●
●
●
●
1200*
60
●
●
●
●
1500*
60
●
●
●
●
* Toe deflector to front edge
● = available 7/10 working days subject to availability